lopinavir over the counter After our incredible floor transformation with NuCore Luxury Vinyl Plank flooring, the stair posts just didn't match the rest of the entry of the house. The orangie-oak wood next to our new dark flooring only lasted a few weeks before I started searching for ways to update the look.
Don' you just love the bleach-stained carpet stairs/ orange wood/ mocha vinyl combo? The stairs update is coming soon. But for now, let's see how I went from that to this:
After some research to price this project out, I had a few options. Either remove the entire area and start from scratch – you can buy new balusters and posts pre-fab from the store but they are a little pricey. Or I could use the base of what was already there and build my new posts around it.
DIYing this project would be about 1/3 of the cost so that made it an easy choice! First things first, I started with sanding. This wood had a heavy layer of a shiny top coat that needed to be removed in order for any stain to soak in. I started by sanding all the areas wood was exposed. You can see here the difference in the sanded areas and the non-sanded areas. I also ripped up carpet from the first step to get a peek at what was underneath 🙂
I decided I would be updating the current balusters to square ones so I removed them completely. This made sanding 100 times easier. I sanded and stained the top banister first. Keep in mind, if you will still be using the stairs during a project like this, keeping fingers off of wet stain can be a challenge. Once the top section was dry, I moved onto the bottom section.
Finding the perfect stain color that matched the new vinyl flooring was a bit of trial and error. I started with Minwax in dark walnut. The first layer was a bit too red. I did a second coat of this and topped it off with Varathane wood stain in carbon gray and this was the perfect mix of dark mocha that matched the new flooring.
After the top and bottoms were stained, it is time to move onto the newel part. I scoured Pinterest to find the post style I was looking for. Here are a few inspo pics to help me visualize what I was going for.
Everything I did was based on this 6×6 in deck post cap I found at Lowes. It forced me to ensure the posts were the same size and fit snugly into the cap.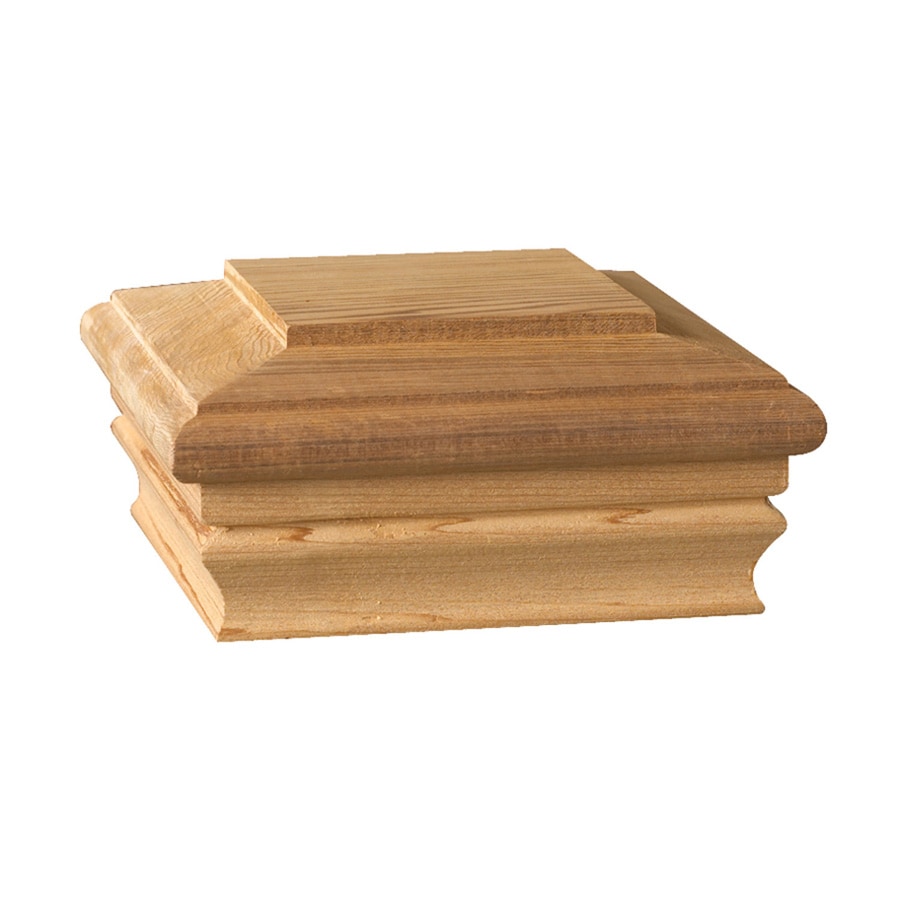 Honestly, I had no idea what my plan was when I started. I just began framing out the current post. This took some tricky measuring since the base of the post has odd angles. I put one 2×4 piece on the front of the post and screwed this in with some 2 inch screws. Be sure to screw in places where the trim can cover it up. Then for the sides, I used smaller pieces of 1×4 and cut those down to fit into the 6×6 cap.
Two pieces of 2 in wood and two pieces of 1 in wood gave me a 6 inch post that fit perfectly into the deck cap! Here's an overhead look at what I was working with. The beginning construction looks a bit rough but it gets better, I promise! Next, time to stain. I used the same mix of stain from earlier, mixing Minwax in dark walnut with Varathane wood stain in carbon gray.
Once the base is stained. I started on the trim. I used 3/8 x 2 craft board for this part. I looked back at my inspo pics and trimmed this out based on that. I cut 45 degree pieces for each side of the post so they covered any gaps from the base pieces. For the areas where there was still a small gap, I used wood filler to close them up.
Gahhh! Can you see it coming together!? (Yes, I sometimes DIY in my slippers). By far, the toughest part of this project was getting the balusters attached to the handrail. I had to determine the angle the handrail was at and then cut each post to fit that angle (on top AND bottom) perfectly. Oh yea, and be sure spacing is even. Let's just say, measure twice and cut once turned into measure 30 times, cut 50 then, close enough. At about $5 per baluster and needing 15+ of them for the top and bottom of the steps, messing up a handful of these got really pricey really fast. I started using scraps pieces to test cut each one before actually cutting one. Once I felt good about the posts, I used a nail gun to secure them into place and filled the holes with more wood filler. The balusters alone took me a solid weekend to install but they were so worth it! This change makes such a big impact!
This matches the floors so much better and I am obsessed with them! What do you think?
I also updated our top stair landing with a much simpler post and love this version too!